You know how when you watch a film with sequels, nine times out of ten you end up saying "the original was definitely the best"? Yeah… that certainly isn't the case with websites. On August the 1st, 1991, Tim Berners-Lee published the first ever website. Whilst it might not be the most aesthetically pleasing thing you will see today, this website marked the beginning of an era! An era which saw the birth of Search Engine Optimisation (SEO). So, we all owe that guy Tim a big thank you.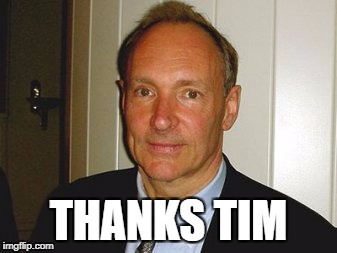 That being said, although Mr Berners-Lee brought us the first website in 1991, Search Engine Optimisation didn't become a practice until several years later. The rise of SEO truly began in the mid to late 90s. At this time, if you were to ask someone, 'what is SEO?' They would probably have looked at you with a hint of bewilderedness and concern. Not just because it was a completely new profession being born, but also because SEO wasn't called SEO at that time. But that's for another post. Onto where SEO all began…
"The Spammers" Era
When I say "The Spammers" era, I don't mean that everyone was eating square-shaped mash-ups of pork combined with water, salt, potato starch, sugar, and sodium nitrate. I am referring to the common practice at that time for ranking high on the Search Engine Ranking Pages (SERPs); keyword spamming.
During the 90's, you had a fairly good choice of search engines. Unlike now, it was actually a pretty competitive market. You had the choice between human-operated directories and crawler-based listings. If you wanted your website to rank well on any of these listings then you were quite limited in what you could do to achieve this. Aside from a few on-page elements which you could optimise, such as HTML tags, content relevancy, and a few other factors, it was pretty much all about the keywords.
It didn't take long for people to realise that all they really needed to do to rank higher than their competitors, was to cram the respective keyword into their page/post more times than their competitors managed to. The higher your keyword density, the higher you would appear in the SERP. This practice became commonly known as Keyword Stuffing and was the first type of SEO activity, I suppose you could say!
Essentially, as long as you were prepared to have content that made very little sense, you could spam away with your keywords. It was quite a simple concept really. Simple, but not exactly flawless.
Hence, "The Spammers" era. No porky spam, just wordy spam.
SEO Milestones in the 90s
The search industry was moving quickly during the 90s. The search engine entrepreneurs at that time knew what was going on wasn't right. So, there was plenty of activity in terms of new types of searches, new ranking factors and new competition. Below is a short timeline to sum up the important milestones for SEO during its early years throughout the 90s.
That brings us to the end of the first part of 'The Story of Search Engine Optimisation'.
It is strange having a post about SEO where the term 'Google' only appears once. But don't worry, we've got plenty of Google action for you in the next post.
In the next chapter, we will look at the rise of Google and how it changed the game!